Tweet
Gryfalcons for Game Hawking
Gryfalcons for Game Hawking
Name:
John Dahlke
Date:
2/14/2023
Website:
www.gyrfalconranch.com
Phone:
13073606298
Email:
Email this seller
Location:
Pinedale

,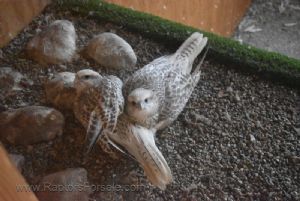 Pure Gyrs raised at over 7,200 ft elevation in the Wyoming high country.



Breeding stock has been selected from North America's top breeders including Konkel, Berry, Erickson, Merrick and others.



Most birds are classic whites and silvers. A few white-tailed whites and greys.



All eyasses are produced by full natural breeding, incubation and rearing. Choice of chamber-reared or imprints. Wild hacking may be available.



If you have ever wanted to hawk sage-grouse, the window is closing.


Email this page to a friend