Tweet
Year old Harris hawk for sale
Year old Harris hawk for sale
Name:
Nick Meixler
Date:
9/23/2020
Website:
Desertkingsfalconry.com
Phone:
9282427209
Email:
Email this seller
Location:
Phoenix , AZ

,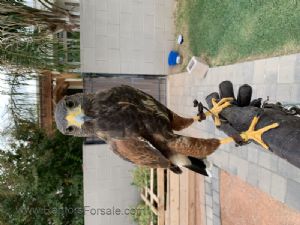 First thing you must have falconry license.

Please don't call without falconry license.

We are selling our year old captive bred Harris hawk. We bought him from falconer in Cali who pulled at 8 weeks so he does like scream. But we have worked with him and he has gotten a lot better. Caught rabbits and pigeons with him but put him up for summer to molt. He needs a good falconer who can really work with him and Noise isn't a issue. Looking to get $250.

Must come and up. If you need me to drive and meet you somewhere half way must pay my gas.
Email this page to a friend