Tweet
Name:
Rick Woods
Posted:
10/22/2008
Website:
www.woodsfalconfarm.com
Phone:
319-934-3250
E-mail:
woodsfalconfarm@hotmail.com
Location:
Iowa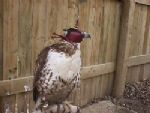 High Quailty field Hoods $60.00 each includes shipping. All hoods have sewn seems nylon braces,turks knot and are made of light weight Calf known for holding its shape for the long run.choice of colors custom hoods avaible Remember my fit or return for one that does.
www.woodsfalconfarm.com
Name:
Cheri Heimbach
Posted:
10/18/2008
Phone:
570-713-5442
E-mail:
baywings@dejazzd.com
Location:
Lewisburg, PA USA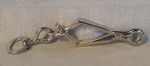 This is a Stainless Steel french clip used on Falconry gloves for a safety snap. Overall it measures 5 1/2" long. Made in Germany. $5.00 each. This is the same high quality clip sold by major falconry distributors for a much higher price. Compare & Save!!! This size is good for all medium to large hawks. These clips are also useful for dog leads and many other things. Brand New. Priority shipping cost $5.00 for up to 6 clips. If you need a large quantity please email for pricing.
Name:
Russell Taylor
Posted:
10/13/2008
Phone:
509-949-0322
Location:
Yakima, WA, UNITED STATES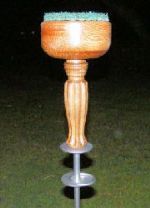 Please see my Website for Custom Made Wood Falconry Blocks. www.russellktaylor.com
Name:
AGHA BRO INTERNATIONAL
Posted:
10/11/2008
Phone:
+923006153329
E-mail:
aghabrointl@cyber.net.pk
Location:
pakistan
DEAR SIR/MADAM,
We are manufacturers and exporters of FALCON & Falconry Equipment of many types such as Falconry Gloves , Hoods , Bags (Cordura,Canvas & Leather) , swivel , bells ,Lahore bells , Wooden Blocks , Ring Perches ,Gloves Keychain,Hood Keychain,Lure Keychain,Hood Protectors,Braces, Leather & Cordura Vests & Jackets,Mangla, FALCONRY TOOLS and many more products as customers demand. We are producing Hi-Quality products with much competitive prices..
We provide you three guarantees in advance, i.e. high quality of products, very competitive prices and in time delivery. We assure you our best cooperation to do good business with you, for any inquiry just feel free to contact us. We are waiting to hear from you at soonest. If your dream is to have your own design of any products so give us your specifications so products master makes it for you. For more details kindly visit our website so that you are more clear about our line of products.
With best regards,
AGHA IBTASAM BABAR
ISO-9002 CERTISFIED
-------------------------------------
AGHA BRO INTERNATIONAL (Ultimate Falconry Equipments)
10/156,ROYAL STREET,NEKA PURA,
SIALKOT,PAKISTAN
+92-300-6153329
+92-321-6153329
SKYPE:: agha_ibtasam
info@aghabrointl.com
aghabrointl@cyber.net.pk
aghabrointl@hotmail.com
WEB: www.aghabrointl.com
www.falcon.aghabrointl.com (FOR FALCONRY PRODUCTS
Name:
Joe lewis
Posted:
10/1/2008
Phone:
314 606 1301
E-mail:
tempers2hot@yahoo.com
Location:
Pacific MO
I Have high quality light weight aluminum giant hoods. I made a cylinder giant hood and rectandluar one they have cooing fans that plug into the cigeret lighter. and the rectangle ones have telemtry drawers. i make double boxes and falcon cubbies that are open in the front that have a self perch and a coolingfan and telemtry drawer i can make one that will fit three falcons or down to one what ever you want i make.
Email me for any questions and pictures tempers2hot@yahoo.com
Name:
Kevin
Posted:
9/30/2008
Phone:
Hoffmann
E-mail:
ferruge2000@yahoo.com
Location:
Shelton, WA.
Tailmount-Night Light
Great for Locating that Lost Raptor at Night !
Pulsating Red & Blue Lights can be seen from Great Distantces. Just clip into your Telemetry Tail Mount and your good to go! 4 Days or 96 Hrs. of Continuous Coverage on a New Set of Batteries. Uses 3 - #392/SR41w Watch Batteries, that most Transmitters use.
This Unit also comes with 3 Extra Batteries. $46.99 Ea.
Contact:Kevin
360-426-2371 or 253-653-3335
Name:
Kevin
Posted:
9/30/2008
Phone:
Hoffmann
E-mail:
ferruge2000@yahoo.com
Location:
Shelton, WA.
Digital Weigh Scale
6.6 lb. or 13.2 lb. Scales
Perfect for weighing your bird at home, in the field, or on the road.
Measuring units: Pounds, Ounces, Kilograms and Grams. Dimensions: 7.25"x 6.25"x 1.5"
Resolution- of (.1 ounce) and (1 gram increments) for accurate measurements.
Hold feature-displays the weight of an item after removal from scale.
Tare feature-subtracts the container's weight to obtain the weight of its contents.
Automatic shut off feature-ensures long battery life.
Compact and portable- for easy storage and transport .
High quality construction-sleek and ergonomic design.
Available-in blue with ribbed platform and silver gray.
One heavy duty 9V battery is included.
Includes- easy-to-use operations manual.
6.6 Lbs. $40 .00
13.2 Lbs. $50.00
Does not include shipping costs.
You just let me know how you want it shipped.
Contact: Kevin
360-426-2371 or 253-653-3335